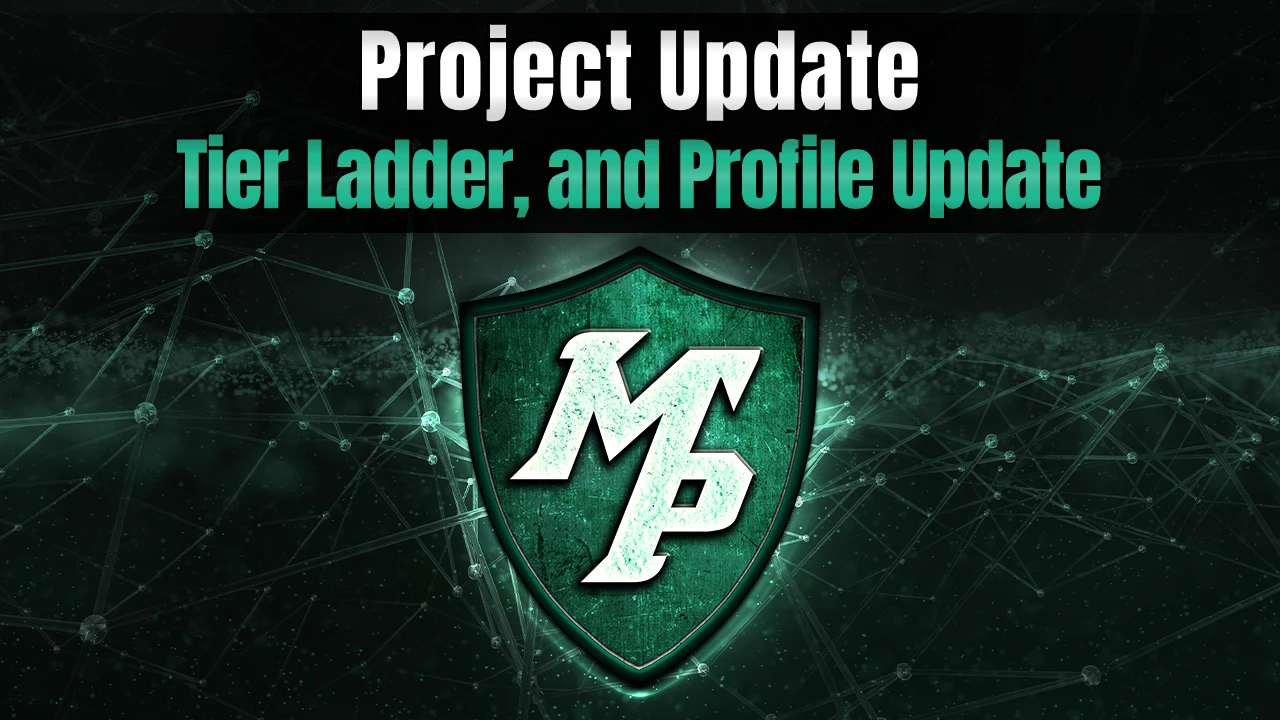 Hey all,
We wanted to provide a project update summarizing recent changes we have made, as well as a look into the future.
Tournament and Showmatch Medals in Profile
While before we used a separate profile page for your tournament stats, we have put in some effort to integrate the medals and tournament ladder rank cards into the main website profile. We have also defaulted to the "overall" setting, which shows your lifetime ranks and medals, rather than just 1 season at a time. The tournaments and Showmatches tabs will only appear on those players' profiles that have participated in our events.
This makes the profiles a lot more linkable and interactable, while also providing better SEO.
We hope you enjoy this update!



Our Struggles with Halo Wars 2 Sign Ups
We have recently shared a VLOG on YouTube about our struggles with especially the Halo Wars 2 pro league, where we would receive insufficient sign ups, in strong contrast to Age of Mythology, where a high number of players want to play.
The feedback was overwhelmingly leaning in one direction - players want skill-based segregation, more than what we have been offering. Essentially we need something between our Amateur and Pro Leagues - perhaps a "Rising Star League" (feel free to suggest names).
This isn't particularly simple to set up, and to ensure that we can make fair decisions about who belongs to which skill bracket, we must develop a system that makes these decisions 100% objective, as opposed to relying on personal decisions by our team (which can easily become sources of frustration).
While the above is mostly a Halo Wars 2 problem, we could see our solution move Age of Mythology in a positive direction, too.
What is the Tier Ladder?
With all this in mind, we would like to propose the Tier Ladder (working name, we are open to suggestions):
Players with a Meta Plays account will be able to sign up to a ladder

A moderator will determine an initial placement.

This can be based on a recent tournament and showmatch result, if available.
If the player is not known, a showmatch/duel will be arranged by mods.

The tier range will determine which league you will be allowed to participate in:

S tier - Pro League players
A tier - top Rising Star League players
B tier - contending Rising Star League players
C tier - new Rising Star League players
D tier - top Amateur League players
E tier - contending Amateur League players
F tier - new Amateur League players

Each tier will have a maximum size, with numbers to be determined, and subject to change over time.
You can gain better spots in the list by defeating someone above you in a tournament or showmatch.

By winning, you will take the spot of the person above you, whereas everyone you skipped past loses 1 spot

Bo 5 and above required
The event has to be relevant to the Tier Ladder format (2v2 results don't impact a 1v1 ladder etc)
Non-Meta Plays events will count as well, but are subject to moderator approval

Requesting showmatches is also an option where needed:

Subject to moderator approval

This avoids spammed requests, or cases where the players will face off in another event soon

You may only issue such challenges 1 tier up
Your opponent may decline with certain TBD valid reasoning
At the highest levels, we, or our content partners may offer coverage and/or prizes on a case-by-case basis

If we are not already aware of the event, you will have to self-report the results.

Only the most recent result will count.
What are the Benefits of the Tier Ladder?
We have had a lot of feedback since we started regarding how the tournaments aren't for everyone. We believe the Tier Ladder, and splitting competition into Amateur, Rising Star, and Pro Leagues will service the majority of the competitive community, and offer a maximized number of players the ability to participate.
In points:
Everyone with a competitive mindset can participate
Participants get to have the controlled tournament/showmatch experience that ranked does not offer
Everyone gets clear goals to work towards, or maintain
Fair play, similarly skilled opponents
Separate Prizes for Amateur/Rising Star/Pro League - not just for the best few players in the world
We get to work together with other content creators more
When can we expect the Tier Ladder's Launch?
While development of the official page has not yet started, we are about to begin working on the system. That said, we are discussing testing this with a simpler format, such as a Discord-based list for the moment. Before that though, we'd love to hear what you all have to say, as we have not yet decided on several details and rules.
For the moment, we will not commit to a release date, and will run with the classic "it's ready when it's ready".
This is all we have for today, but stay tuned - upon the completion of our currently active leagues, we will release a project finance update.
Best wishes,
The Meta Plays Team
1