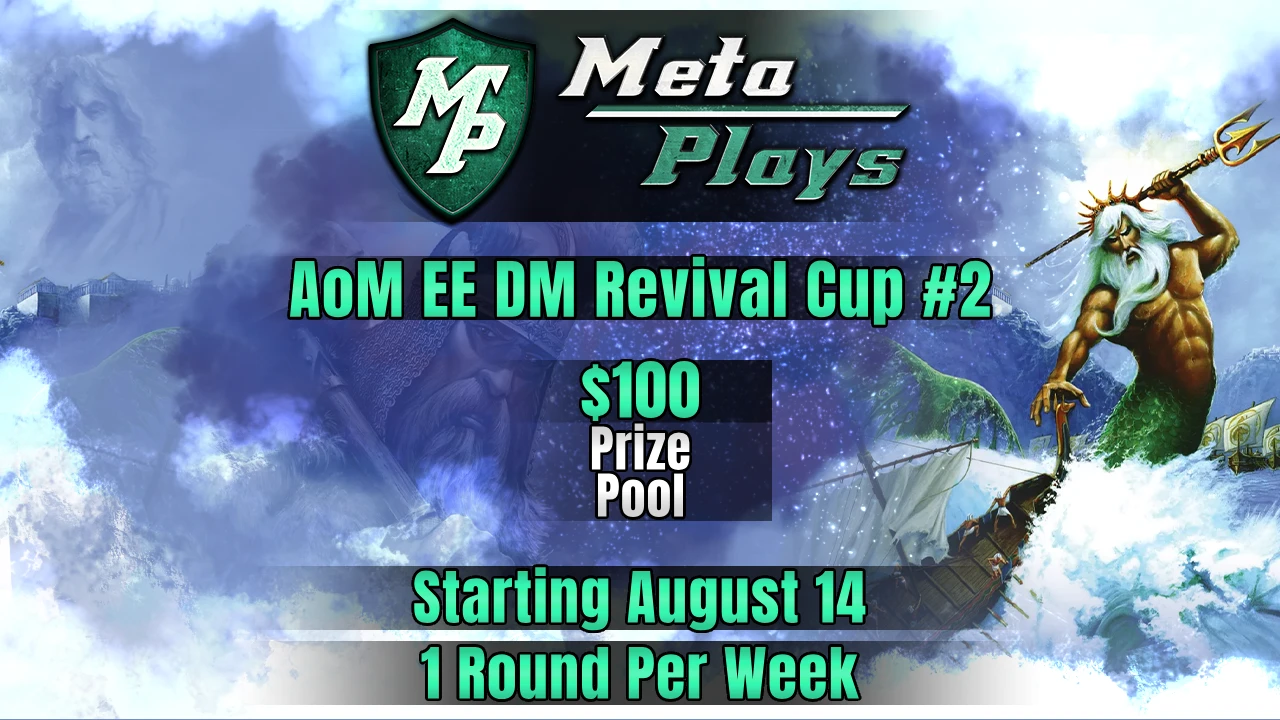 The DM Revival Cup is a rolling event series to provide the community with practice opportunities until Age of Mythology: Retold releases.
They will exist alongside the Meta Plays seasons, but have no main event to qualify to, and are funded by sponsorship activities via Nakamura's Twitch channel. $100 and 1000 Meta Plays Points are up for grabs.
The purpose of these events is to provide practice to the community until Age of Mythology: Retold releases.
The tournament will begin on August 14th, and players must complete 1 round per week at a time of the players' choice.
The winner finals, losers finals and grand finals must be live streamed.
Seeding is based on Meta Plays Ladder Points.
@Nakamura is the manager for this tournament. For any questions, concerns or requests, please reach out to him on Discord, or @ him in the comments here (if not urgent).
Thank you to @Phenomenon @GanG and @strausshaus for participating in sponsorships, and to @WizSanji for rolling his previous winnings back into the events.
EVENT PRIZES
1st place:

$40 

| 

255 Meta Plays Ladder Points

|

Gold Medal Icon

2nd place: 

$30 

| 

185 Meta Plays Ladder Points

|

Silver Medal Icon

3rd place:

$20 

| 

135 Meta Plays Ladder Points

|

Bronze Medal Icon

4th place:

$10 

| 

95 Meta Plays Ladder Points

|

Copper Medal Icon

5-6th place:

54 Meta Plays Ladder Points

7-8th place:

37 Meta Plays Ladder Points

9-12th place:

24 Meta Plays Ladder Points

13-16th place:

17 Meta Plays Ladder Points
GAME SETTINGS
Use Age of Mythology: Extended Edition on Steam.
Game mod: DM Patch 2023.
No repeats of any god you won with in the current series.

Accidental pick of an already used up god will has the following penalties:

The match is invalid - head back to lobby.
Your opponent may optionally pick a specific god for you that hasn't been used yet.

The lower seed should start the map ban.

Alternate bans until the number of remaining maps matches the series size.

First map per round is picked by the higher seed.
Losing player each game picks next map. Each map may only be played once.
Valid maps: Alfheim, Arabia, Arctic Craters, Blue Lagoon, Frozen Wastes, Mirage, Oasis, Olympus, Savannah, Tundra, Wetlands.
No excessive wall connector spamming allowed.

Banned cases:

Connector spam to clog up the map

Acceptable cases include:

4 pieces around towers
4 pieces to save dock builder
Segments to seal off a gap that was meant to be walled

No hunt deleting.
No unnatural wall usage, such as deleting wall segments and setting up a gate network.
No Gaia Forests around Gold Mines or Settlements.
No cheating of any form.
HOSTING
Games will be hosted by the higher seeded player.
SOCIAL RULES
Participants must be in the DM Discord. Report match results there, with replays, even if they were casted.

Replays should be named with the following format: Round X - Player 1 Name vs Player 2 Name - Game #
We will not count matches that you fail to properly report. Please cooperate for the sake of timeliness.

Forfeiting/not showing up to any match with prizes and without notice will result in disqualification and you forfeiting the prizes.

1 rescheduling opportunity is granted when external conditions force it. There will not be a second rescheduling.
Forfeiting players that break rules on any of our platforms, or do so out of malicious intent will be banned from the next event.
Repeat offenders will receive a ban from the entire season. There will not be a fourth chance after the season-long ban expires.

Penalties for not showing up:

Timer starts when 1 player is ready and neither player is currently playing a match.
Late by over 10 minutes: opponent gains 1 match win.

This is the wait time BEFORE a series begins.
BETWEEN games in a series, the lateness limit is 5 minutes.

Late by additional 5 minutes: opponent gains 1 match win for each 5 min.
Once a player wins via lateness penalties, the late player is disqualified.
Players must play live streamed games with the assigned streamers present.

Failing to do so will be counted as lateness.
All live games played on non-approved channels are invalid.

No harassment, discrimination, or cheating accusations against players/viewers/staff on any of our platforms.

You will be disqualified, forfeit of prizes in this event, and be permanently banned from all event participation. 
Cheating accusations are meant to handled in private with Meta Plays staff.

Stalling games after final staff decisions (e.g. via cheating accusation arguments) will result in lateness penalties.

No excessively derogatory messaging targeting our staff on any platform.

This will result in a permanent ban on all Meta Plays platforms.

Win trading will result in forfeit. Do your best to win. You may resign if you are clearly losing.
Live coaching or any other external communication during matches is unacceptable and will result in a permanent ban from all Meta Plays events.
Do not sign up with smurfs. Match all account usernames. We will remove suspicious sign-ups.
In the event of player lag disputes, players must submit speedtest results. The event manager will make a judgement call. 
No account sharing. You will be disqualified, forfeit of prizes in this event, and be permanently banned from all event participation. 
PAYMENT
You will be paid approximately 2-5 work days after the event.
Please reach out to @Nakamura with your payment information after the event. 

If you do not provide payment information despite requests within 60 days after the event, you forfeit the prize money.
You confirm that the account you provide is owned by you. We do not take responsibility for funds getting lost to third parties in the event of the account not belonging to you. We will not pay out to a known third party.

We can pay out via bank transfers or PayPal. We do not pay out via other methods.
We do not pay extra to cover transfer fees.
This tournament takes place during a war period. Ukraine has been invaded by Russia and Belarus.

In light of NATO sanctions against Russia and Belarus, we are not able to pay out prizes to Russian and Belarusian competitors residing in Russia or Belarus.

Russian or Belarusian citizens are not affected by this if they reside in an un-sanctioned country, or have financial accounts in such a country able to receive payments.

Affected prizes will be paid to a selected charity unrelated to the war, chosen by our staff.
LIVE STREAMING & VIDEOS
Everyone:

You may stream all of your own matches.
You are required to feature the provided Meta Plays Logo over gameplay at all times.
We request you give Meta Plays one shout-out mid-commentary, such as an invitation to make an account on the site.
For casting, we recommend you use the Meta Plays Casting Tool for the best viewer experience.

Content Partners:

 

60s delay is required for live games.
You may stream any match from replay, and any live game before the final 4. Please contact @Nakamura to be linked from the bracket.

Content Partners are prioritized for live games over non-partners..

You may upload videos at your leisure.

Non-Partners:

Casting approval is required. Please contact @Nakamura to request permission.

Once approved, you may stream any match from replay, and any live game before the final 4.

90s delay is required for live games.
We request you wait with video uploads until the Meta Plays channel has posted its version of the identical match.
---
Start Date: 08/13/2023 11:00 PM
Tournament Ladders: 1v1 Deathmatch
Permitted Classes: S Class, A Class, B Class, C Class, D Class
Tournament Point Value: 1000
Player/Team Limit: 17
Team Size: 1
Tournament Formats: Double Elimination
Tournament Status: started
Use Custom Award Icons?: No
Use Custom Seeding?: Yes
Invitational Tournament: No
Media Labels: Yes
Hide/Unhide Bracket
Hide/Unhide Sign-Up List
---

Losers Round
Losers Round 1


Bo 5

Deadline: Aug 28

Losers Round 2


Bo 5

Deadline: Aug 28

Losers Round 3


Bo 5

Deadline: Sep 4

Losers Round 4


Bo 5

Deadline: Sep 11

Losers Round 5


Bo 5

Deadline: Sep 18

Losers Semifinals


Bo 7

Deadline: Sep 25

Losers Finals


Bo 7

Deadline: Oct 2
---

Grand Finals


Bo 7

Deadline: Oct 9
---