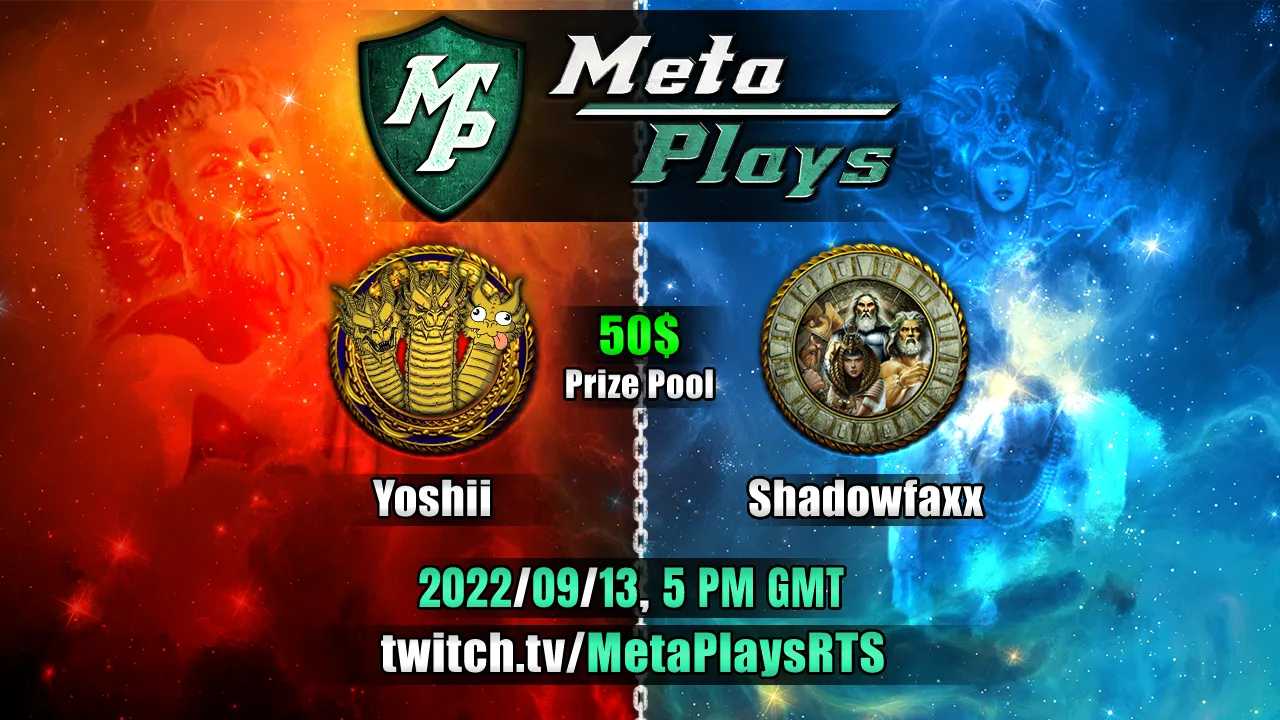 Welcome to our first ever showmatch using our new system! Remember you can commission your own showmatch in our store!
The showmatch will take place on Tuesday, September 13th, starting at 5 PM GMT.
Shadowfax is currently the #6 player in our Age of Mythology: Extended Edition season 3 ladder, whereas this is actually Yoshii's first supremacy event!
Make sure to catch our live stream! But in case you can't make it, a YouTube VOD will be available.
EVENT PRIZES
Winner takes it all: $50 USD. 
GAME SETTINGS
Play on Age of Mythology: Extended Edition on Steam.
Use the Meta Plays Balance Mod.
No repeats of a god you have won with

 

(within a series). You can only win with the same god 1 time and must switch to another.
Valid Maps: Alfheim, Anatolia, Arctic Craters, Blue Lagoon, Borderlands, Ghost Lake, Marsh, Mediterranean, Midgard, Oasis, Savannah, Tropical Mirage, Tundra, Watering Hole.

1 map ban each

. Coin toss for who bans first.
Coin toss for first map pick.

Losing player each game picks next map

. Each map may only be played once.
2 vetoes (restarts) per player total (before 1 min).
No excessive wall connector spamming allowed

.

Banned cases:

Connector spam to protect wonders
Illegal placements around gold mines and Settlements

Acceptable cases include:

4 pieces around towers (including around your main base gold mine, if it blocks)
4 pieces to save dock builder
Segments to seal off a gap that was meant to be walled

No hunt deleting.
No unnatural wall usage, such as deleting wall segments and setting up a gate network.
No Gaia Forests around Gold Mines or Settlements.
No cheating of any form.
SOCIAL RULES
Participants must be in the Meta Plays Discord. Report match results there, with replays.
Forfeiting/not showing up to the showmatch without notice will result in

disqualification and you forfeiting the prizes

.

1 rescheduling opportunity is granted when external conditions force it. There will not be a second rescheduling.

Forfeiting players that break rules

 on any of our platforms, or do so out of malicious intent will not be considered for future showmatches.

Penalties for not showing up

:

Timer starts when 1 player is ready and neither player is currently playing a match.

Late by over 10 minutes

: opponent gains 1 match win.

This is the wait time 

BEFORE

a series begins.
BETWEEN games in a series, the lateness limit is 5 minutes.

Late by additional 5 minutes

: opponent gains 1 match win for each 5 min.

Once a player wins via lateness penalties

, the late player is

disqualified and will not be considered for future showmatches.

No harassment or discrimination of players/viewers/staff on any of our platforms.

You will be disqualified, forfeit of prizes in this event, and be permanently banned from all event participation

. 

No excessively derogatory messaging targeting our staff on any platform.

This will result in a permanent ban on all Meta Plays platforms

.

Win trading will result in forfeit

.

Do your best to win

. You may resign if you are clearly losing.
In the event of player lag disputes, players must

submit speedtest results

. The event manager will make a judgement call. 
No account sharing. You will be disqualified, forfeit of prizes in this event, and be permanently banned from all event participation. 
PAYMENT
You will be paid approximately 2-5 work days

after the event.
Please reach out to @Nakamura with your payment information after the event. 

If you do not provide payment information despite requests

within 60 days

after the event,

you forfeit the prize money

.

You confirm that the account you provide is owned by you

. We do not take responsibility for funds getting lost to third parties in the event of the account not belonging to you. We will not pay out to a known third party.

We can pay out via bank transfers or PayPal. We do not pay out via other methods.
We do not pay extra to cover transfer fees.
LIVE STREAMING & VIDEOS
Players:

You may stream all of your own matches

.
You are required to feature the provided Meta Plays Logo over gameplay at all times.
We request you give Meta Plays one shout-out, such as an invitation to make an account on the site.
We recommend you use the Meta Plays Casting Tool for the best viewer experience.

Content Partners:

 

We will provide replays after the event privately.
You may upload videos at your leisure.

Non-Partners:

We will provide replays after our YouTube VoD is public.
We request you wait with video uploads until the Meta Plays channel has posted its version of the identical match.
---
| | |
| --- | --- |
| 1st Place: Yoshi | 2nd Place: Shadowfax |