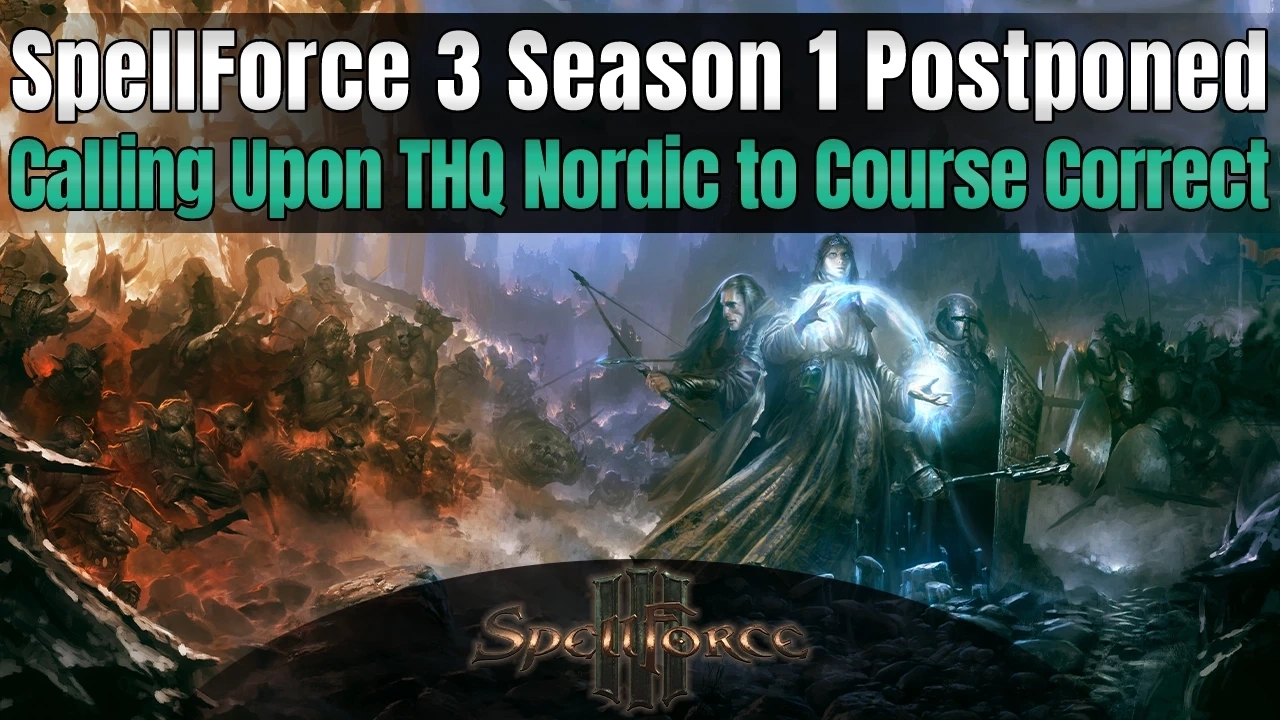 Hey @SpellForce 3 Tournament Players, we have an update for you below.
Our Journey With SpellForce 3
With SpellForce 3, we attempted something we didn't do before - helping to form a competitive scene in a smaller game by using a higher budget than we normally do. As you all would have noticed, we have not been succeeding - unfortunately the game has had an activity decline in the competitive scene, to a degree where the players are barely able to find games and practice, resulting in a significant decline in match quality.
The nail in the coffin however was that we only had 12 players signed up to our upcoming 200$ event.
The Difficult Decision
We want to be transparent with you even when the news is not positive. We have made the decision to indefinitely postpone our tournament season. We are prepared to reverse this decision should the game be revitalized in a sustainable way. 
Meta Plays Calls Upon THQ Nordic for Change
It is not our responsibility to maintain a baseline of a player base, but that of the publisher.
We believe there is another chance for the game coming up now with the console releases. Even though we don't directly benefit with the tournament scene having to be on PC, this is a huge opportunity to expose the game to a new audience, including the existing PC versions.
For Success in the Competitive Space, the Game Needs the Following
Essential:
A consistent player base for matchmaking
A significant amount of dedicated content creators
Publisher/developer marketing

Twitter, YouTube, Twitch, Facebook, Instagram, Discord, Reddit, Forums are a necessary ecosystem for any game.
Active presence is required for new players to find the game. It is not too late to start, seeing as the Versus Edition is free.
We appreciate the publisher's help in supporting our tournaments with messaging, but the game must come first.

Crossplay

We are currently not able to leverage the advantages of SpellForce 3's presence on multiple platforms.

In particular, we believe Game Pass players would grow the game significantly.

The game is not up to date across the different platforms. Some have year old builds or worse.
Strongly Recommended:
Server-based networking

Having to pause live matches for spectating is as unpleasant for viewers as it is for the players to experience lag.
This would need to naturally come with fixes to ending sessions.

We have had matches, even in finals cut off, leading to confusing anti-climaxes.

New player onboarding

There is no in-game tutorial mode that holds players' hands with the first steps.

Videos and pop-ups are insufficient for people who never played an RTS before.

Progression rewards

There is account leveling and experience, but no in-game rewards. Perhaps the avatars could be gated.

Unlockable items keep players around for longer and help offset loss aversion. New players are too valuable to lose.

Better Spectating Tools

Production and other status tabs will help new players understand what is happening in off-screen areas.
This is the lowest priority of our recommendations, but included it as would help us portray the game at its best.
Show us the Numbers
Below we will be sharing our statistics that have ultimately lead to the business decision to cut the remaining events. As mentioned before, we are prepared to revisit our stance should there be a significant change in the course the game is taking.
AoM is Age of Mythology, and HW2 is Halo Wars 2 content.





Moving Forward
All SpellForce 3 areas on our website will remain browse-able until the end of the year. Should the game remain in its current state, we will make all SpellForce 3 pages read-only, and accessible by links alone. We will also adjust our website subscriptions to no longer take SpellForce 3 into account, and take down our showmatch commissions.
We urge THQ Nordic and Grimlore to consider investing a bit more into multiplayer, and a significant amount into brand presence as a whole.
Hopefully we will be back with better news in the second half of the year, but we can not make any promises.
Thank you to all the SpellForce 3 players giving us great games. Please come back and play SpellForce 3 if THQ Nordic and Grimlore course-correct. Bring your friends, too!
Lastly, if you agree with us, be constructively vocal that you want change. Leave a comment here, and in the official Discord.
However, remember that there are real people on the receiving end - we encourage respectful communication.