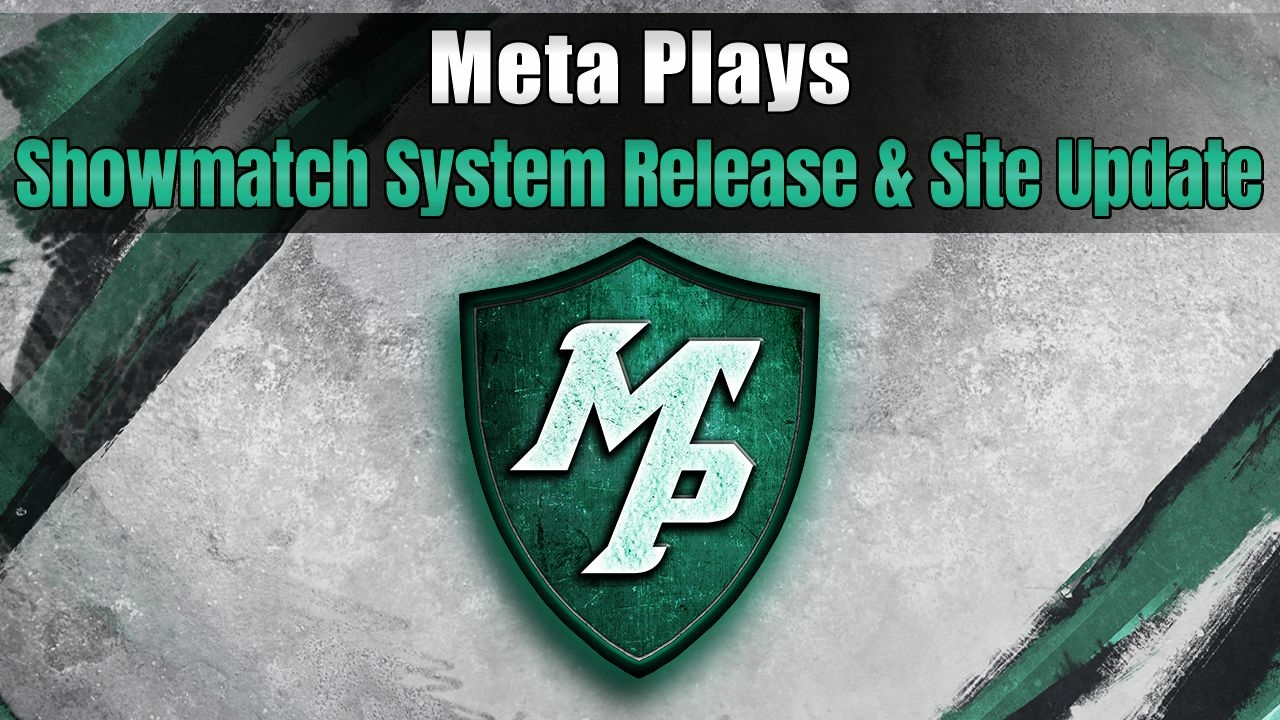 Hi everyone,
We are super excited to announce the release of our Showmatch System!
You may have seen us running showmatch events before, but we didn't really have a place to store them, so we used news posts as a temporary measure. This changes now as we enter our third season (for our oldest games)! See some examples below for each of our currently supported games.

Much like the tournaments, each showmatch will have a permanently saved listing, and a visual structure that is easy to follow. Each match will display factions and maps used, and we'll be able to edit it on the fly as players make their picks or results come in.

The same thing, but for Age of Mythology!

Age of Empires IV example!

SpellForce 3 example!

For our listings, we are transitioning to a 16:9 preview image, as opposed to the old 4:1 tournament listings. We have also updated this for tournaments. We can present more information like this, and things will look nicer when you share to social media. One more benefit is that art assets are more reusable - for example, content creators can use listing images as thumbnails.

Just like with tournaments, the players will earn medals in their profiles.

Showmatch profiles will be totally separate from tournament ones, though, and also track the players' total showmatch winnings and win rate statistics against other players.

Of course there is no better way to put this system on display than actually running showmatches! 
We will hold 2 Promotional Showmatches for each of our supported games!
The details and players are still TBD - feel free to make recommendations in the comments! We are looking to make these BO 7 showmatches, same as what you can commission with us!
Check out our updated Showmatch Store and commission one you would like to see!
All commission funds go to the players, and we will cover the event.
We have made 2 changes to our store to increase the value of what you get: 
Lowered prices (based on what our players recommended was a fair amount)
Increased the sizes of the series to reach from Bo 5 to Bo 11

(Note: Age of Empires IV and SpellForce 3 options are also available, but we strongly recommend you target players from our upcoming tournaments to increase the chances of your player picks agreeing to play.)
New to Meta Plays: Ideas System
Unlike the showmatch system, we can't take credit for this one, as it is a free plugin. Nonetheless, we will be looking forward to collecting your feedback and evaluating your ideas!

Simply post your idea and share to get votes. We periodically review and action these. Several have already been actioned as and implemented as you can see below, such as our low level Skirmish Tournaments!

Brand New Content Partner Program
Content creators that would like to have a closer relationship with us now have a means of doing so! You can apply here.
These creators gain several perks, such as full access to our Tournament and Showmatch hosting system and priority slots for casting limited-spectator games in our events, content promotion options, credits listings, and much more. In exchange, these creators offer us shout-outs when covering our content, such as tournaments, and participate in collaborative sponsor deals when they arise.
Thus far we have welcomed Boit and AoL_Iron_Maiden as content partners, and we are looking forward to more joining us!
You can check out the new Content Partners listing page where we highlight said individuals!

Updates to Website Subscriptions and Donations
Meta Plays is 100% privately run, and all running and dev costs are accounted for out of pocket. Our project is community-driven, though the right types of sponsorships would be considered by our team. In terms of our brand presence, these are still very much the early days, and so we rely significantly on community contributions.
We kept an eye during our first year to see how people like to support our project, and came to these conclusions:
Donations to a specific tournament's prize pools are a popular option
Twitch subscriptions are moderately popular, despite our limited stream frequency per game
Tips for staff are moderately popular as well - thank you for the pizzas!
Donations to a broad goal, such as an entire season's prize pools are not popular
Website subscriptions affecting all games' prize pools are not popular
With these in mind, we have updated our Donation Page to offer options for each tournament, and one for staff tips. Donators also get highlighted in unique groups with badges, scaling based on their contributions.

Website Subscriptions are our "Patreon at home". This will now focus on supporting the project. The following changes were made:
Removed 3 tiers (9->6).
Moved down the majority of former perks by 1 tier.
Removed superfluous website perks to make the page easier to read.
Introduced some new perks (pick rules for skirmish tournament, 1h coaching)
Added subscriber-only news, where we can show off items in development early
Instead of boosting tournaments, revenue will be used to cover running costs of the project (see chart below)

Donations will be the main way to boost tournaments from now


New Staff Page
Just like with our Content Partner page, we are now also highlighting the individuals in our staff! Feel free to take a look and follow everyone!

Other small changes we made:
Removed the per-game home pages due to low usage
Removed the per-game themes due to high maintenance cost
Revamped the main navigation bar to focus more on Tournaments and Showmatches
Future Website Development
At the moment we are approaching the point where we feel the website is feature complete. That said, some outliers exist, so we are still going to actively develop for a few months at least.
Planned features:
Website Donator and Subscriber Leaderboards
Discord Sign In Method & Automatic Role Updates
Live Stream Notifications for Website Subs and Donations
1 Clan Ownership Limit Per Game

Currently the clan feature is hidden until we complete this work.

Clan listed in Profile, Tournament sign ups and Ladders
Merging Tournament Profiles into the Site Profile
Long Term Development Items We May Consider:
(Note: these are hugely difficult and expensive systems to develop,  and will be entirely dependent on our future success and priorities vs community ideas)
Team Showmatch System (our system only supports 1v1)
Clan War System (1v1 and Team)
Game Support Update
New Addition - Age of Empires IV:
We have been closely watching the state of Age of Empires IV, and now with a significant amount of quality of life  and competitive features added by the developers, we felt it was high time for us to support this community!
Linked below: our article announcing our league's Season 1, as well as the first Monthly (open) and Skirmish (Low Elo Legends) Tournaments! Join these ASAP!
Returning to Meta Plays - SpellForce 3:
We have brought back SpellForce 3 into the fold now that the console versions are released and the game has a significantly increased audience. Our events will be smaller scale than before, but we are committed to building up the competitive community.
Linked below: our article announcing our league's Season 2, as well as the first Monthly (open) and Skirmish (Low Elo Legends) Tournaments! Join these ASAP!
Renewed for Season 3 - Age of Mythology:
We are back with Age of Mythology for another season! Our main events will be on the Extended Edition this season, while Voobly events will be crowdfunded. We are also going to experiment with Team Tournaments!
Linked below: our article announcing our league's Season 3, as well as the first Monthly (open) and Skirmish (Low Elo Legends) Tournaments! Join these ASAP!
Renewed for Season 3 - Halo Wars 2:
We are back with Halo Wars 2 for another season as well! We remain committed to pushing the competitive scene of the game.
Linked below: our article announcing our league's Season 3, as well as the first Monthly (open) and Skirmish (Low Elo Legends) Tournaments! Join these ASAP!
What about StarCraft II and Warcraft III?
We have had to make the difficult decision to shelve both StarCraft II and Warcraft III for now. We feel both games require more budget than we have to generate the viewership and community support we experience in our other games. Perhaps in the future where our project can attract large sponsors, we can revisit these games.
For now, we have hidden the site areas related to these games, but we will not be deleting anything.
Looking to Support our project or events?
The best way to support Meta Plays directly is becoming a subscriber on the website. This is a monthly recurring payment that you get perks for, and help us cover the running costs of the project.
You can also increase prize pools of individual tournaments by donating.
Where To Watch
We will live stream all our events on our Twitch, and VoDs will be available on our YouTube. Be sure to follow/subscribe, it's free!
That's all! Let us know what you think in the comments. Also don't forget to join our Discord for real time chats!
Thank you for reading, we will see you on the battlefield!
1